Repeating sections allow sections of the template to be repeated, based on the rows of a DocGeneration Table Tag.
Repeating sections can be built from any Data Source that contains a table (and possibly Nested Tables too). Therefore repeating sections can be used with SharePoint, Web Service, SQL Server, Excel and User-Defined Data Sources. Nested repeating sections are created from Nested Data Tables. (Nested Tables refers to tables that exist inside other tables) It is only possible to have Nested Data Tables on User-Defined and Web Service Data Sources.

Repeating Sections can be edited or deleted via the right side pane.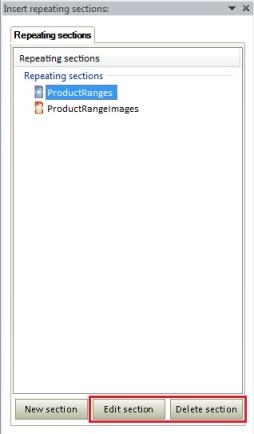 Editing the Repeating Section, allows the user to change the table that it is based on.
Deleting a Repeating Section will remove it from the template including anything inside it and right side pane.