Build first implemented in: 14.4.0.7 & 15.2.0.3
Once all prerequisites are complete inside the template, the template may be merged using the DAW via the SharePoint List the template is associated to.
For more information about the prerequisites regarding being able to merge with the DAW, click here
Navigate to the SharePoint List that is to be used for the merge, select the item from the list that is to be the input parameter for the merge, click on the Items tool bar and then the Assemble button.
The Assemble button has a drop down list allowing the user to select either a Word Document or a PowerPoint Presentation Template.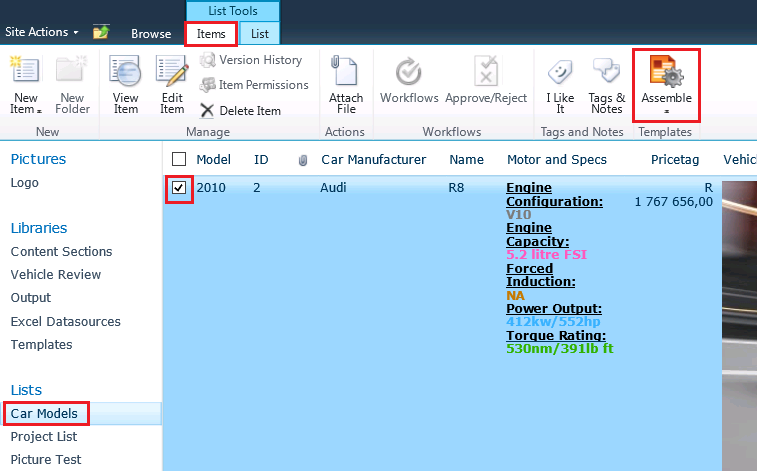 The below screenshot is the Document Assembly Wizard. The template used in this example has all three types of DAW Content Sections. The first is the Static, second the Filtered and then the Supporting.
Template, Document or Presentation selection is initiated by clicking on the section in the left pane in the wizard, in turn exposing the Library that the Content Section is linked to in the right hand pane. This is where template, document or presentation selection is made, viewed or browsed for.
After selecting the section on the left, select the templates on the right.
Static Section: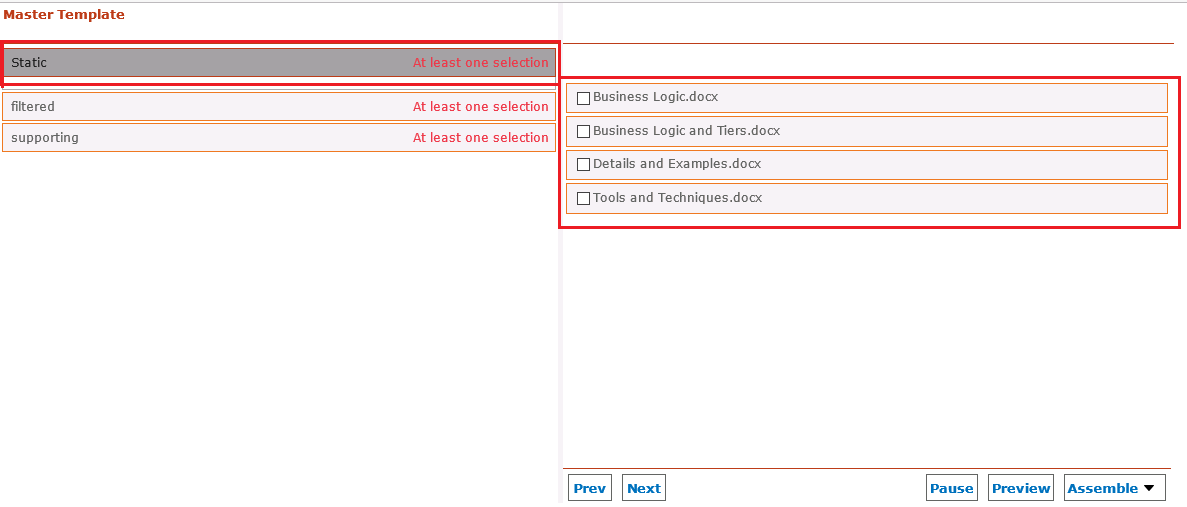 This section either allows the user to select documents from the Library that were chosen to be in the Content Section. Some might be mandatory and hence will be greyed out.
Filtered Section: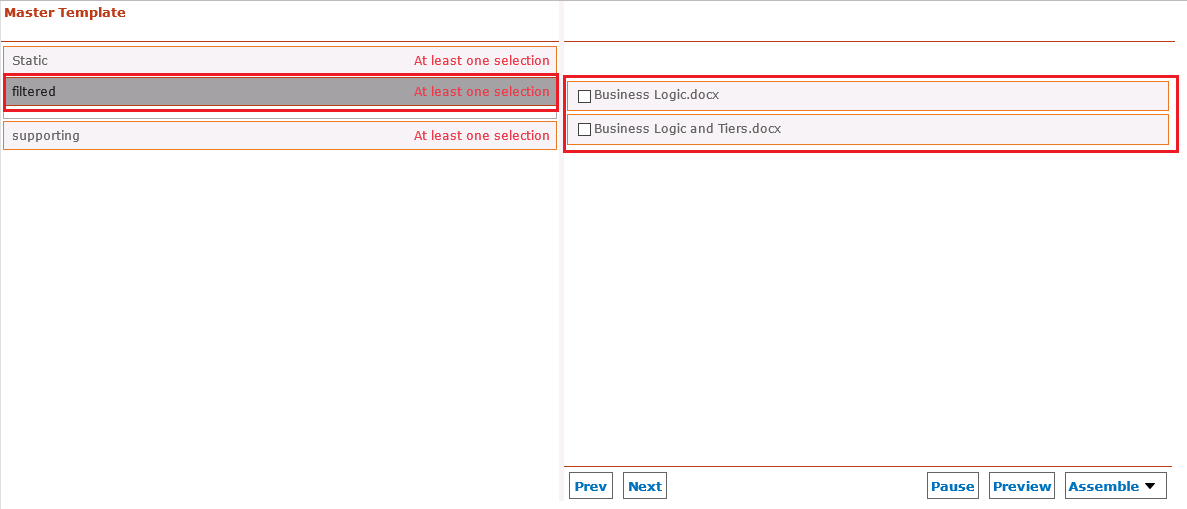 This section exposes the content of the library it was linked to and only displays the content according to the criteria of the filters.
Supporting Section: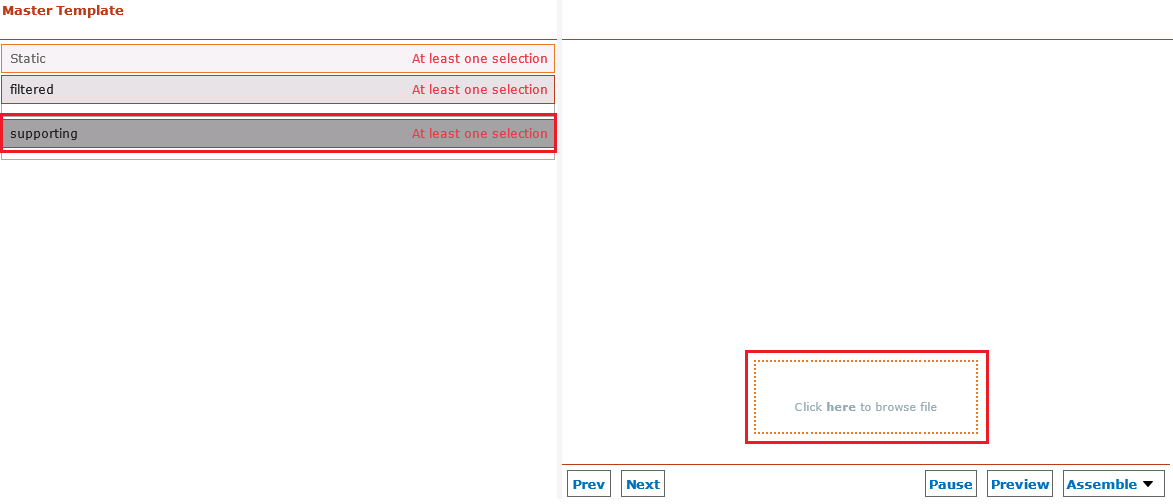 This section allows the user to add files from their local machines file system or use attached files from the List item the merge was initiated with. If there is an attachment on the item it will show on the right side when the Supporting Content Section is selected and can be selected or not.
Once documents from the right side are selected, it moves over to the left side as indication that it is being used in the merge.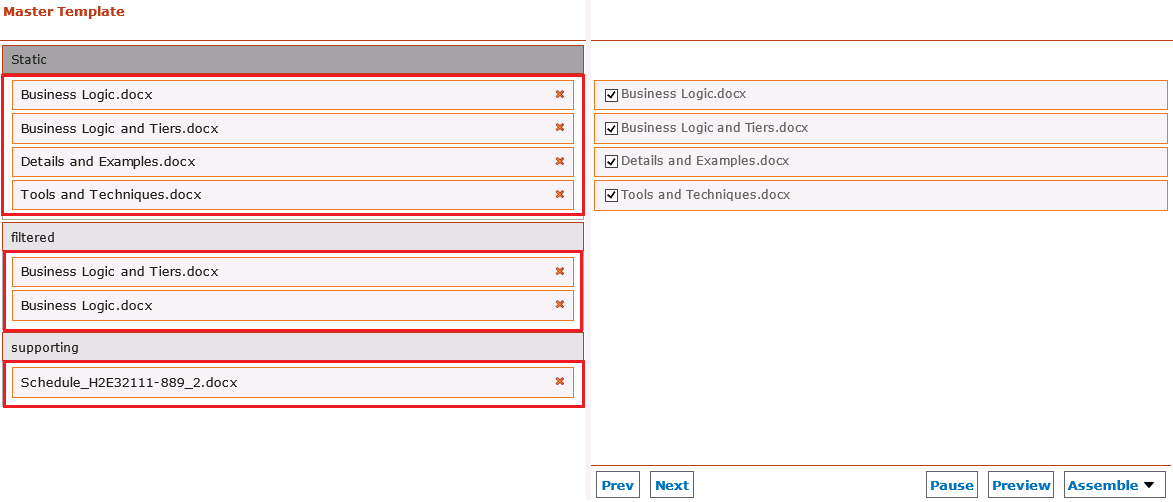 Document Assembly Wizard buttons explained:

Prev & Next
Allows the user to quickly navigate through Content Sections on the left side of the Wizard.
Pause
Allows the user to pause the assembly of the template and continue at a later stage.
Preview
Allows the user to view a preview of the merged document in a windowed pane. This might take a minute or two to generate.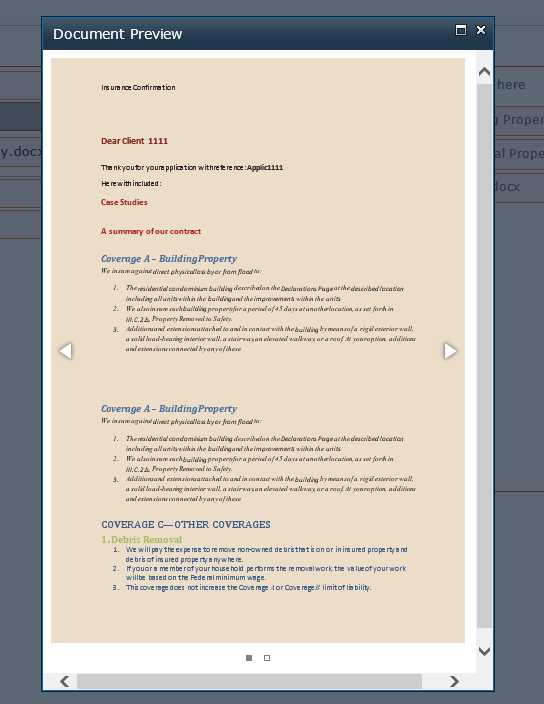 Assemble
The assembled document is written to the defined Storage Location, and any configured post-merge actions (on completion/document conversion etc.) are implemented, as with any other DocGeneration or SlideGeneration Merge.
Assemble & Wait
The Assemble and Wait option allows the user to wait for the resulting document to be generated, and opened for immediate editing.