Build first implemented in: 14.4.0.7 & 15.2.0.3
The Document Assembly Wizard allows users to execute complex merges, initiated via a SharePoint List from a wizard interface, to determine at runtime the selection of content to be included in the merge.
This now gives the user a similar ability to what developers have been able to achieve with the API and Content Sections for some time now.
Assembling templates, documents or presentations with the Wizard requires the end user to configure and add one of three Wizard Content Sections to the template which acts as a placeholder in the template and is the point at which all selected content from the Wizard will be stitched into the template.
There are prerequisites that need to be fulfilled before a user can utilise the Document Assembly Wizard, they are:
1) DAW is a feature in Standard, Enterprise and Ultimate Editions of the product.
2) The master template in which the DAW Content Sections are going to live in needs to be associated to a SharePoint List as the Assembly is initiated via a SharePoint List.
For more information on Associating Templates, click here
3) The merge initiation has to be set inside the template that will contain the Content Sections.

For more information on the DAW Merge Initiation, click here
4) Only once the merge initiator has been changed to "Document Assembly Wizard" will the Wizard Content Sections become available.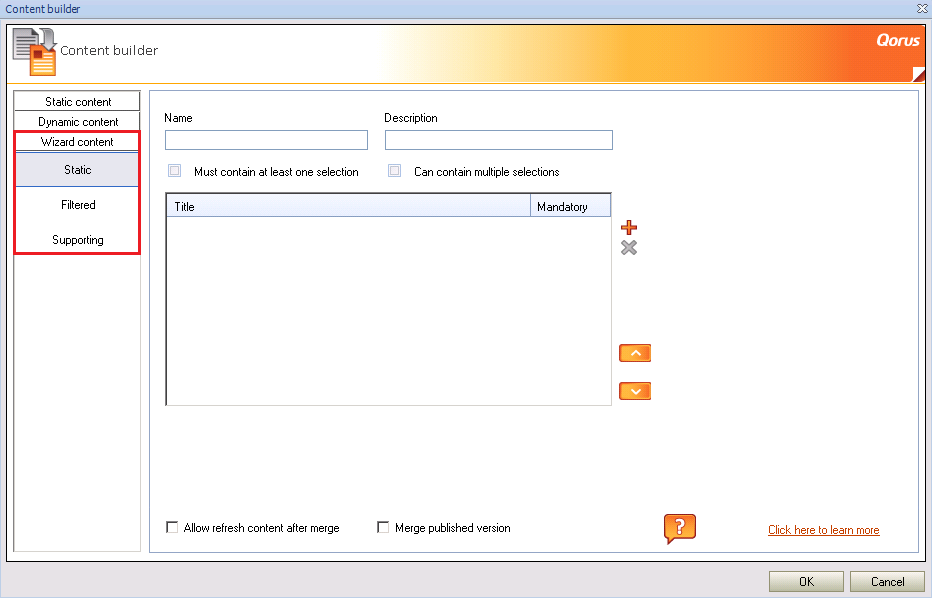 For detailed information on each type of DAW Content Section, click here
5) The following Template Properties should be applied in the master template in order for the merged document to be saved to a location in SharePoint. Take note they are not mandatory as there is more than one way to do with a merged document what needs to be done, i.e. a On-Completion event or web service can store the document in a data base or print it.

The following Template Properties can be applied:
Save to Document Library
Location Settings
For more information on DocGeneration Document Settings, click here
For more information on SlideGeneration Document Settings, click here
For more information on Location Options, click here