Repeating sections allow sections of the template to be repeated, based on the rows of a DocGeneration Table Tag.
Repeating sections can be built from any Data Source that contains a table (and possibly Nested Tables too). Therefore repeating sections can be used with SharePoint, Web Service, SQL Server, Excel and User-Defined Data Sources. Nested repeating sections are created from Nested Data Tables. (Nested Tables refers to tables that exist inside other tables) It is only possible to have Nested Data Tables on User-Defined and Web Service Data Sources.
Repeating sections can contain:
Text, images, shapes, and other standard Word elements
Single Data Tags
DocGeneration Tables
Business Rules
Lock sections
Content Sections: dynamic and static
Repeating Sections (Nested Repeating Sections)
Repeating Sections can live inside:
Content Sections
Business Rules
Lock Sections
Word/DocGeneration Tables
Word Shapes
Repeating Sections (Nested Repeating Sections)
Due to the fact repeating sections are based on Table Tags. There has to be a Data Source in the template containing a table in order for a repeating section to be created.
To access the Repeating Section pane, click on the "Repeating Sections" button.





To add a repeating section, click "New Section".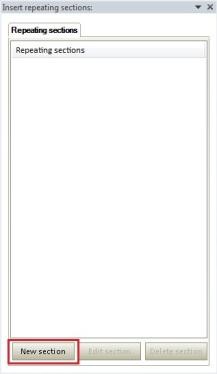 Search through the available Data Source to find the table to base the Repeating Section on.

Note:
Where the cursor is at the time of creation denotes where the Repeating Section placeholder is going to be placed. The Repeating Section will be added automatically as soon as it is created.





Click "Ok" to confirm selection.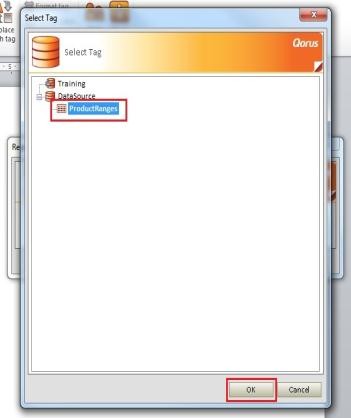 Now click "Ok" to confirm the Repeating Section.



The Repeating Section should now be listed in the right side pane and appear as a placeholder on the template.



The Repeating Section is now ready to be populated with Table Tags and other Word functionality.



In the previous screenshot, there is an ordinary Word table inside the Repeating Section placeholder with headings. The Data Tags from the "ProductRanges" table from the Data Source are in the bottom row of the Word table.
Test the template to view the results.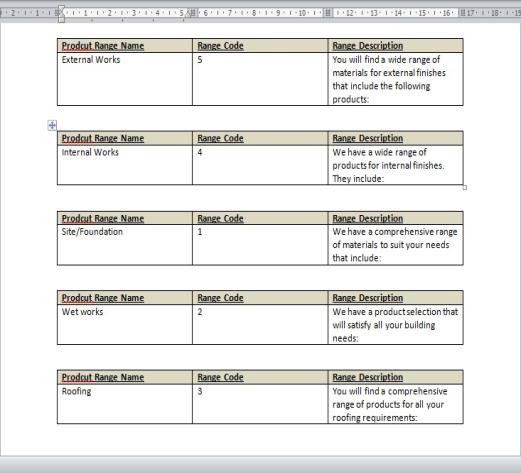 That is the result of a Repeating Section.
Related Articles:
For help on Editing and Deleting a Repeating Section follow the step-by-step instructions here.