Data Tags are The Product's core feature. It is the main tool with which data will be merged into the template. Data Tags live within data sources which live inside the template.
Click on the "Data Tags" button in the DocGeneration ribbon.



The right side pane will open. From here the user can manage Data Tags and Data Sources.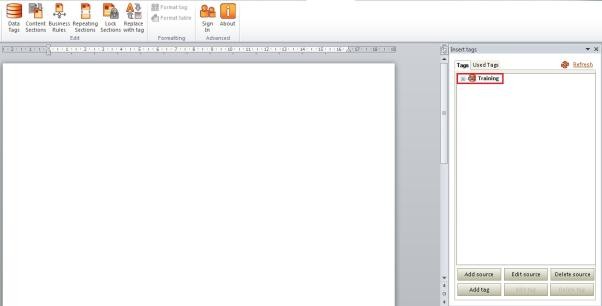 Note: The position of the cursor denotes the place where the Data Tag will be placed when it has been dragged into the template. For the most accurate placement of the Data Tag, position the cursor to the exact position where the Data Tag is required to be placed and then drag the Data Tag to the cursors position.
Data Tags can reside inside:
Repeating Sections
Business Rules
Content Sections
Any Word Shapes or Tables
Lock Sections
DocGeneration Tables (known as Child Tags)
In the Template
Drag a Data Tag into the template



Related Articles:
For help on Inserting a Table Tag into the Template, follow the step-by-step instructions here.
For more information on Removing a Data Tag from the Template follow the step-by-step instructions here.