Bulk Merging allows a template to be merged with a specific view of a SharePoint List (that the template is associated to) to give the user an output document for each row of the SharePoint List.
Click on the List ribbon button in the top tool bar.

Then click on Bulk Merge.

DocGeneration will direct you to the template selection page where the specific template needs to be selected.
For the template to be eligible for bulk merging, there are three settings that need to be configured in the template.
The "Manual" event has to be enabled.

The Merged Document name has to contain a Data Tag to ensure unique output file names.

A location for the output files has to be set.
For more information on SharePoint List events, click here
For more information on adding a data tag to the merged document name, click here
For more information on setting a location for the merged document, click here and here
Select the view, then the template.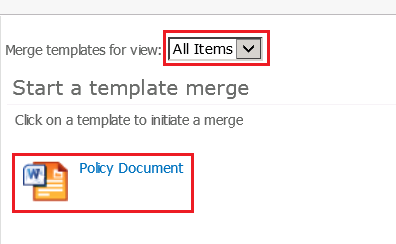 Once the template has been selected, DocGeneration will then automatically merge the template with each item from the SharePoint List. It will re-route the user to the SharePoint List from which the merge was initiated and create a status column using the template's name that got used in the merge. This field displays a status of the merge so the user has a point of reference for merge completion or failure notifications.

The user can then navigate to the preconfigured output library to find the merged documents.